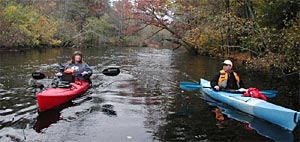 The natural progression is for recreational paddlers to become more experienced and ultimately go on the more advanced tours. No one remains a beginner forever. The result of this is that to the casual observer, we would appear to cater only to those with high end gear, looking for the more advanced trips.
The truth is that we've always wanted to have a strong recreational faction as a part of the group. We just have trouble getting beginner/intermediate paddlers to join.

Southeastern Massachusetts has a wide variety of paddling locations that are perfect for recreational kayaking. From the North and South Rivers to Billington Sea to protected salt water areas such as Duxbury Bay and the harbors in Hingham, Cohasset and Plymouth.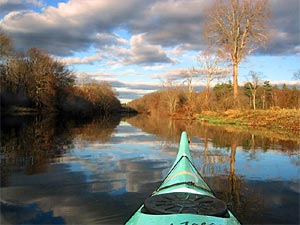 What do I need to bring on a recreational trip?
You are responsible for supplying all your own equipment.
Critical items (you can't come without these):
Kayak
Paddle
PFD (life vest)
Important items (highly recommended):
Drinking water
Sun screen
Dry clothes
Snack
Water shoes (something like this is great, but sandals are fine.)
Hat
Sunglasses
Other things to consider:
Camera
Spray skirt (good for keeping paddle drips out and sun off your legs)
If you bring anything that you don't want wet, you might want to bring a drybag. Our recreational trips won't bring us into any treacherous waters, but I've seen experienced paddlers capsize their boat on the shoreline when the disembarking doesn't go quite as planned.